The state of your landscape speaks volumes about your property.
Exquisite, long lasting landscapes don't happen by chance. Improper planning, installation, or poor quality plants and materials, can turn what should be an asset into a liability that may detract from your property's value.
Working with Ruble Outdoor Concepts protects your landscaping investment by ensuring that your job is always completed right the first time. Because we use the finest available materials on all of our projects, you'll enjoy the highest quality possible. In addition, the environmentally friendly landscapes and hardscapes we install will grow in value as your trees and shrubs mature.
As a contractor or developer, details and deadlines impact your budget and reputation. Our management team has spent over 20 years together, installing thousands of complex commercial landscapes. You can be confident that we'll follow your blue-line drawings to a tee and complete your project on time and within budget.
Ruble Outdoor Concepts is committed to keeping your projects on track and being present the minute you need us.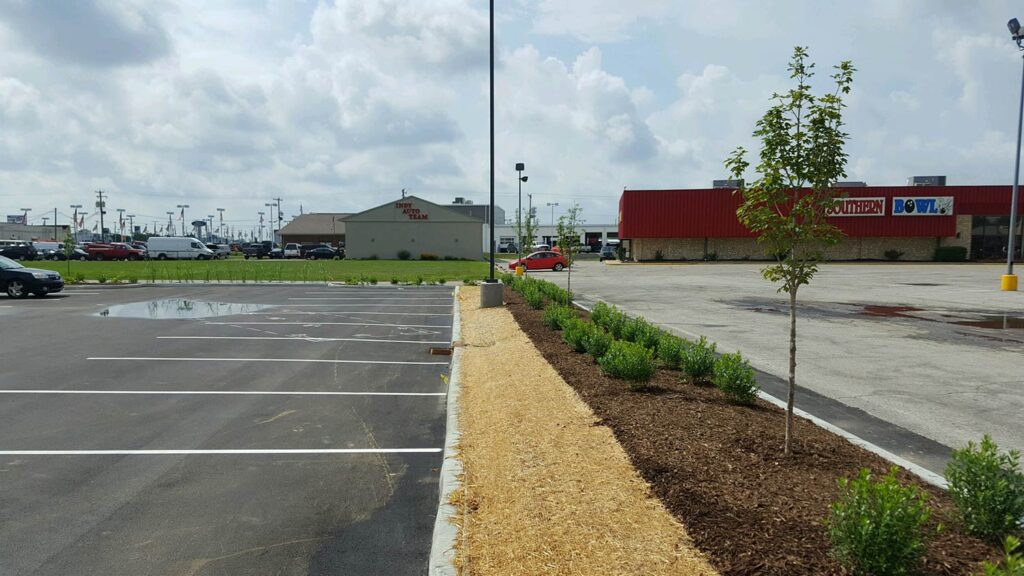 TREE, PLANT & SHRUB INSTALLATION
Properly selected trees, plants, and shrubs can provide your property with insulation against harsh weather conditions. A well designed plan will beautify your landscape and improve air quality for any site.
Plant quality is paramount. 
Many commercial landscaping contractors source plants, trees, and shrubs through out-of-state big box suppliers – many of which ship product by train across the country before arriving at their destination. While it may drive their costs down, problems can arise with plants not rooting properly along with other hardiness and plant health issues, which will increase landscaping costs over the long-term.
Ruble Outdoor Concepts sources all plant material from local Indiana Plant Nurseries (within 150 mile of your site) to provide fresh and healthy greenery which will endure over time. 
Your property's landscaping is one the first things visitors will notice when arriving at your site. Imagine an outdoor area that beautifies your site, is low maintenance, and good for the local ecosystem. 
Ruble Outdoor Concepts creates healthy green lawns using Bluegrass and Fescue blends specially selected for Indiana climates. We know that speed of growth is important to both developers and property owners. Our clients always see grass growing within 14 days of application of their new lawn.
If having a touch of natural beauty is part of your site plan, we can install native grasses and plants on the borders to attract birds and butterflies, giving your visitors a great first impression of your site.
Mulch and gravel are part of almost every commercial landscape. They prevent erosion, conserve water, and add a crisp clean look to any outdoor space.
Ruble Outdoor Concepts provides a wide array of mulch options from natural mulches to decorative gravel. Gravel can be used for walkways, bedding, pathways, and garden areas. Our team of landscaping professionals can match any design you have for the property with a wide range of gravel and mulch options.
Ready to discuss your Commercial Landscaping Project?